Thank you for your inquiry. We will reply asap
Layover Tours
Anna Zheng | Dec 06, 2017
5 Best Airport Layover Tours In Hong Kong
Hong Kong International Airport is one of the busiest airports in the world, serving as a transit hub for many travel routes. As such, many passengers, be they travelling for work or for pleasure, find themselves with a layover in Hong Kong. While Hong Kong is regularly voted one of the best airports in the world and has plenty to keep passengers entertained, those with longer layovers may wish to consider to take a tour of a city voted one of the must see destinations in the world.
Below is a guide to 5 of the best layover tours and sightseeing options in Hong Kong and how you can arrange a booking.
Is There Enough Time For A Layover Tour?

Before planning any layover tour – quick layover, few hours stopover, or half day layover - it is strongly recommended to review how practical it is to leave the airport to explore Hong Kong. The first point to consider is how easy it is to enter Hong Kong with your passport. For instance, passport holders from the European Union, Australia and United States do not require visas to enter Hong Kong. For a complete list of information on visa requirements for all countries, refer to Hong Kong's immigration website.
Once it has been established whether or not you can leave the airport, it is equally important to review how much long the layover is and how much time there is to take a tour of Hong Kong.
A layover tour in Hong Kong should only really be considered if a stopover is at least 8 hours. An estimate of 3 hours should be set aside for exiting and entering the airport, while an additional 3 hours will be needed for a round trip journey to most points of interest in Hong Kong. If you do not have enough time on your stopover to venture into the city, there is still a plenty of food, drink, shopping and entertainment choices in Hong Kong Airport to enjoy.
For business travelers with more free time before their flight, Hong Kong offers a whole host of options from those looking to take in some stunning views, to enjoy some time at by the beach, to go shopping in the markets, or simply to sample some fine dining in the city. Below are some tips on what to do and how to do it in Hong Kong.
1. Victoria Peak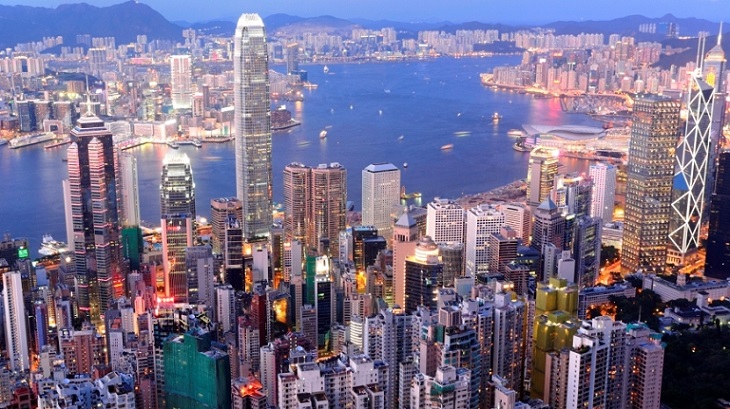 Perfect For: One of the most breathtaking city views in the world
Drive From Airport: 50 minutes
Suggested Duration Of Visit: 1 – 3 Hours
Recently, CNN Travel awarded Hong Kong as the best skyline in the world, and there is no finer place to enjoy the stunning view than at Victoria Peak. From a height of 552 meters, visitors can see over Hong Kong Island, across the bay to Kowloon, and in the distance to New Territories.
Victoria Peak is most commonly reached by using the tram service located in Central district, but travelers should be prepared for a long queue as the landmark is popular with tourists every day of the week, night and day. For those interested in visiting Victoria Peak, but do not wish to contend with the long queues and busy crowds, there is always the option of hiring a private carto take you directly to the summit to enjoy the breathtaking view. It is a popular destination for tourists who wish to enjoy amazing fireworks duringChristmas and New Year's Eve.
Once at the summit, The Peak's viewing platform is the highest of its kind in the city and offers a 360° view. Entry is HKD50 for adults and HKD25 for children (3-11) and seniors (65 and above). The Peak is also host to Madame Tussauds and a number of restaurants including Bubba Gump Shrimp Co. and Cantonese cuisine in Lu Feng.
2. Tian Tan Buddha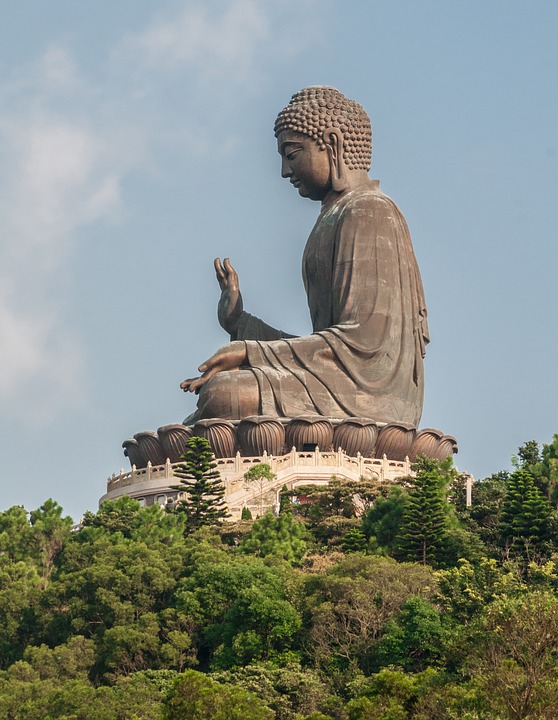 Perfect For: Discovering Buddhist culture while taking in the stunning view
Drive From Airport: 30 minutes
Suggested Duration Of Visit: 3 – 4 Hours
Victoria Peak is not the only view worth exploring while on a layover in Hong Kong, with the city boasting a large number of islands with picturesque mountains. One of the most popular tourist spots is just a 30 minute drive from the airport and also located on Lantau Island. Tian Tan Buddha, or Big Buddha as it is commonly referred to by tourists, is found near Po Lin Monastery in the highlands of Ngong Ping and is the tallest outdoor seated bronze Buddha in the world.
Most visitors choose to take the cable car up to see the Tian Tan Buddha, and while this particular mode of transport provides an amazing view, the queues and journey time are not so convenient for those trying to make the most out of a short layover in Hong Kong. It is possible, however, to book a private carall the way up to the Po Lin Monastery and from there walk to the Tian Tan Buddha. You can also hire a private tour guide to provide an introduction to the history behind the monastery and Tian Tan Buddha.
3. Stanley Bay

Perfect For: Enjoying Hong Kong's waterfront and seafood
Drive From Airport: 60 minutes
Suggested Duration Of Visit: 2 – 3 Hours
While Hong Kong is indeed famous for its skyscrapers and its skyline, the city also boasts an embarrassment of riches when it comes to waterfronts and beaches. One of the most famous seafront spaces is Stanley Bay, which is located on the south side of Hong Kong Island, away from the hustle and bustle of the city center.
Stanley Bay is, in fact, one of the island's oldest villages and the area is rich with history and culture. Visit the historic Murray House, take a stroll along the promenade, or if you are feeling more adventurous, go for a swim at St. Stephen's Beach.
When exploring the quieter areas of Hong Kong, like Stanley Bay, visitors will find that there is not the same choice of public transport or taxis as in the city center, and so it is recommended that a private car is arranged for your trip.
4. Mong Kok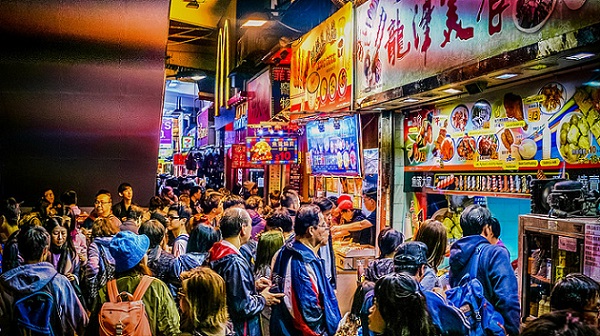 Photo by Mark Lehmkuhler on Foter.com / CC BY-ND

Perfect For: Finding gifts and souvenirs to take home
Drive From Airport: 30 minutes
Suggested Duration Of Visit: 1 – 3 Hours
If it's local shopping that you are interested in, then you are sure to find what you are looking for in the markets at Mong Kok, and quite possibly a few items you did not realize you wanted or knew existed. Ladies Market on Tung Choi Road, the most popular of all the markets, offers a wide range of clothes, handbags, and novelty souvenirs, while the Mongkok Computer Centre at 8 Nelson Street caters for all electronic good needs. The Bird, Flower, and Goldfish markets are probably not selling any items you can take onboard your flight with you, but worth visiting if only to soak in the iconic atmosphere.
Mong Kok is known as one of the most densely populated area on the planet, and so it is fair to say it can be somewhat daunting to navigate at times. To make the most of the rich and fascinating markets, it is recommended to hire an English speaking tour guide.
After finishing shopping, it's time to take advantage of the amazing selection of Cantonese restaurants in the Mong Kong area. If your layover allows for it, one should not leave Hong Kong without having sampled the local delicacy of Dim Sum. Within walking distance of the Mong Kok markets can be found world famous restaurants such as One Dim Sum and Tim Ho Wan.
Arrange a private transfer to one of these tourist attractions in Hong Kong with a reliable car service provider. Have a question? Inquire now at Bookings@HongKongCarService.com
5. Lan Kwai Fong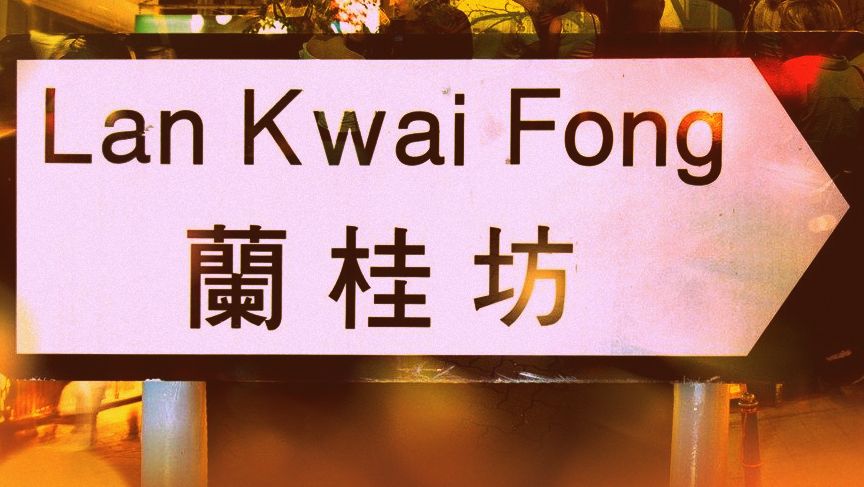 Perfect For: Fine dining and sophisticated nightlife
Drive From Airport: 45 minutes
Suggested Duration Of Visit: Wherever the night takes you
For visitors whose layover in Hong Kong extends into the evening, you may wish to sample the local nightlife in the iconic Lan Kwai Fong area. Located in Central district, the hilly and cobbled streets are always bustling and lively, and offer fantastic options for a relaxing lunch, fine dining in the evening, or even a few drinks on the town. If you do intend to spend your evening in Lan Kwai Fong, it is suggested you arrange a private car in advance so you can relax and enjoy your night without worrying about getting back to Hong Kong Airport later.
If you are looking for a brunch to remember, some of the top restaurants in the city have some very generous deals.
Braza – Arguably the best Churrascaria outside of Brazil, Braza offers the finest cuts of barbecued meats alongside a first class counter of salads and cold cuts.

dragon-i – By night, dragon-i is one of Lan Kwai Fong's hippest clubs, but by day it is transformed into a restaurant serving authentic Cantonese cuisine. At lunch time, customers can enjoy all you can Dim Sum along with some Japanese specialties.

Bombay Dreams – Hong Kong is host to a wide range of Indian restaurants, but Bombay Dreams, is considered by many to be the finest. The restaurant boasts an impressive a la carte menu in the evenings, but at lunch time, customers can enjoy a buffet that includes a wide choice of curries.
For visitors who have a layover in Hong Kong in the evening, you may wish to consider dining in Lan Kwai Fong, where some of Asia's best restaurants can be found.
Bread Street Kitchen & Bar – A Gordon Ramsey restaurant, offering traditional English dishes and a variety of original signature cocktails, which lives up to the hype of its celebrity chef owner.

Tango Steakhouse –When it comes to steaks, there is plenty of healthy competition in Hong Kong for which is the best steakhouse in the city. Possibly the strongest contender is Tango Argentinean Steakhouse, located just a 10 minute walk from the center of Lan Kwai Fong.

Uma Nota –Visitors can expect to find the latest in restaurant trends and new fusion concepts in Hong Kong. For those wishing to trying something fresh and unusual, then Uma Nota's Brazilian Japanese fusion comes highly recommended.
If travelers wish to go in quest of a couple of drinks after dinner, be it a beer or something stronger, you are guaranteed to find a bar for you in Lan Kwai Fong.
The Globe – The Globe is a craft beer lover's paradise, boasting the largest selection in the city with hundreds of beers from all over the world. The bar also offers a fantastic selection of pub food.

Angel's Share –Whiskey's aficionados can expect a treat at the Angel's Share. Whether you drink Scotch or a Japanese whiskey lover, visitors are sure to find a whiskey for them from the range of more than one hundred bottles.

Hard Rock Café – For visitors looking for a lively night during their layover, Hard Rock Café located in the very heart of Lan Kwai Fong. The bar and restaurant has live music every night of the week, making it the perfect starting point for the evening.

_____________________________________________________________________________________________________________

Remove the hassle of getting around Hong Kong! Book a car with driver that will pick you up and drop you safely at the desired destination in Hong Kong. Take advantage of online discount on your 1st service with our company and book your private car and driver now! Click the image below or contact our 24/7 team at Bookings@HongKongCarService.com. Use this promo code: 10CARBLOG.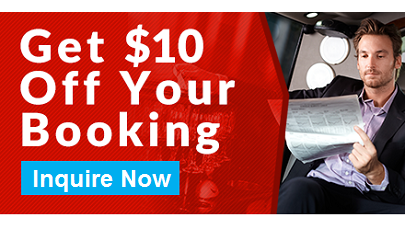 If you find this blog useful, please feel free to share it!
_____________________________________________________________________________________________________________

OUR SERVICES INCLUDE:
► Hong Kong Airport Transfer & Hong Kong Airport Pickup
► Hong Kong Cross-Border Transfer to Shenzhen, Guangzhou, Dongguan or other cities in China
► Hong Kong Car Rental & Hong Kong Limo Service
► Airport VIP Meet & Assist Service
► English Speaking Tour Guides
► Hong Kong Event Transportation
► Professional English Translator / Interpreter Service