Thank you for your inquiry. We will reply asap
Airport Guide
Anna Zheng | Jan 24, 2018
A Definitive Guide To Hong Kong Airport
Whether you are flying to Hong Kong for the first time or just have a layover for several hours, below is a comprehensive guide to Hong Kong International Airport with tips that even frequent visitors may find useful.
Hong Kong Airport is the eighth busiest in the world, servicing more than 70 million passengers a year, and boasts truly world class facilities and services, which have led to it being named the "World's Best Airport" eight times by Skytrax.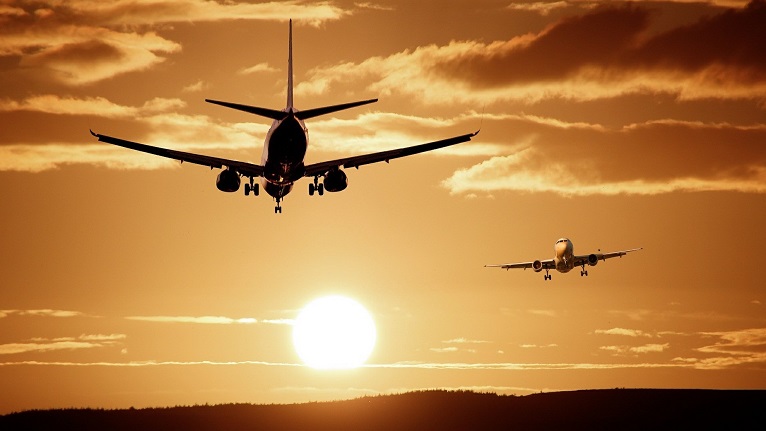 You can locate the facilities featured in the guide below by referring to this interactive map of Hong Kong International Airport.
Bars & Restaurants

Hong Kong has plenty of options for food and drink, ranging from Michelin star quality restaurants to Western fast food for those short on time: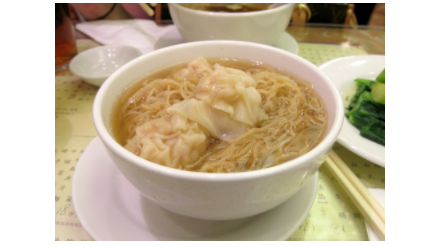 Ho Hung Kee (Terminal 1, Arrivals) - Ho Hung Kee's Causeway Bay branch was awarded one Michelin star and their Cantonese specialties such as Wonton Noodles and Beef Chow Foon are highly recommended.

Hung's Delicacies (Terminal 2, Arrivals) - Another Michelin star restaurant is Hung's Delicacies. The Spiced Marinated Goose is an absolute must try.

Ritz Café & Bar (Terminal 2, Departures Level 6) – For those looking to eat some Western cuisine, the Ritz Café & Bar has a wide selection of dishes to choose from.

Popeye's (Terminal 1, Departures Level 7) & Burger King (Departures Level 6, Near Gate 40-80) – For those in a rush to catch a flight, there are plenty of fast food options also available. Hong Kong Airport boasts the city's only Popeye's and one of the few Burger Kings, while McDonalds can also be found in the T1 Arrivals Hall and Departures South Hall.
Lounges

As Hong Kong Airport acts as their main transport hub, Cathay Pacific offers seven VIP lounges located across Terminals 1 and 2. To enter the lounge, travelers are required to be either first or business class Cathay Pacific passengers, selected members of The Marco Polo Club, or oneworld partner program members. The lounges can be found in the following locations:
The Wing (First Class) - Terminal 1, near Gates 1-4
The Pier (First Class) - Terminal 1, near Gates 61-63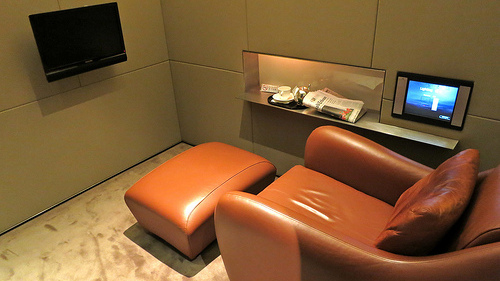 The Pier - First Class

The Wing (Business Class) – Terminal 1, near Gates 1-4
The Arrival (Business Class) – Between Terminal 1 and 2, Level 5
The Bridge (Business Class) – Terminal 1, near Gate 35
The Cabin (Business Class) – Terminal 1, near Gate 23
The Pier (Business Class) – Terminal 1, near gate 65
Hong Kong Airport also has three Plaza Premium lounges, where you can pay to use for anything from 2 to 10 hours with prices ranging from $580HKHD to $900HKD. You can pay an extra $95HKD for a 15 minute massage and if you are just looking for a shower then you can pay $200HKD for a special package. The Plaza Premium lounges can be found in the following places:
Plaza Premium Lounge (West Hall) - Terminal 1, Departures Level 7, near Gate 40
Plaza Premium Lounge (East Hall) -Terminal 1, Departures Level 6, near Gate 1
Plaza Premium Lounge (Arrival Hall) -Terminal 1, Arrival Hall Level 3, below Airport Express
Hotels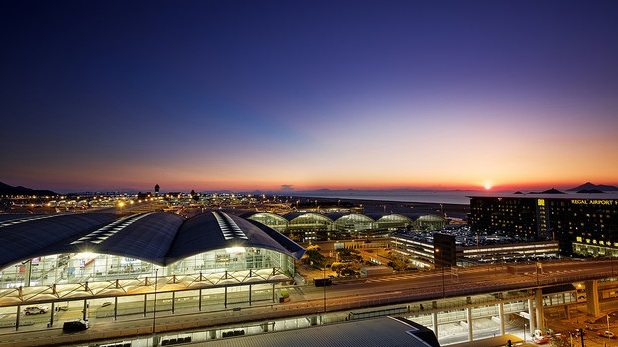 Photo credit: Eddie Yip via Flickr.com / CC BY

Whether it's due to a missed connection or simply to catch an early morning flight the next day, there are a number of luxury business hotels situated in the vicinity of Hong Kong Airport. The following three hotels are located within 10 minutes of the airport:
Regal Airport Hotel – Connected to Terminal 1 via an air-conditioned bridge is the Regal Airport Hotel. Room rates start at around $1,760HKD. The hotel has both indoor and outdoor swimming pools and its fair share of restaurants and bars.

SkyCity Marriott - The SkyCity Marriott is slightly further away, but a complimentary shuttle bus runs every 20 minutes from Bay 29-30 at Terminal 2. The hotel has five restaurants, a spa, and a fitness center that includes an indoor swimming pool. Room rates start at around $2,040HKD.

Novotel Citygate - The newest of the hotels is the Novotel Citygate. It is a 10 minute drive from the airport and there is a complimentary shuttle bus that runs every 15 minutes from Bay 29-30 at Terminal 2. The hotel is located in Tung Chung New Town and is attached to the Citygate shopping center. Room rates start at around $1,650HKD.
If you're short on time during your business trip, it is recommended to arrange an airport pickup in advance. Meet & Assist service will save your time even more significantly and reduce the stress of passing through immigration (available upon request). Would like to know more? Inquire now at Bookings@HongKongCarService.com!
Layover Tips

Regardless of whether it is only for a few hours before a flight or if there is a day long wait for a connection, there is a whole host of activities on offer in and around Hong Kong Airport.
Play a round of golf at GreenLiveAIR – Looking to work on shaving a couple of strokes from your game or just hit some balls on the range? With GreenLiveAIR, it is possible to do so without even leaving the airport. The golf simulator is located in Terminal 2 at Departures Level 2.

Catch an IMAX movie at UA Cinemas – The cinema at Departures Level 2 in Terminal 2 actually presents the largest IMAX screen in Hong Kong. Check the

latest movie showings

to see if there is time to watch a movie before the flight.

Go sightseeing at Po Lin Monastery – Hong Kong Airport is situated on Lantau Island and for those with a day to spare, there is plenty to see and do on the rest of the island. The island is home to Po Lin Monastery, which sits atop the second highest mountain in Hong Kong and boasts the largest sitting Buddha statue in the world. The most convenient way to travel there from Hong Kong Airport is by taking the MTR subway to Tung Chung Station, followed by the 23 bus to Ngong Ping.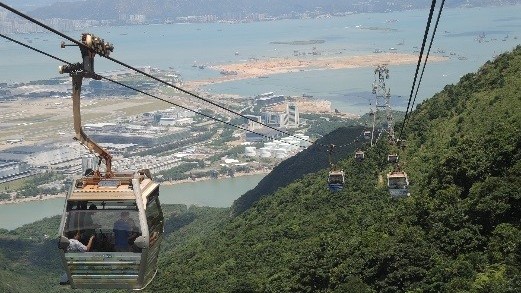 Before considering leaving the airport, please note that passport holders from the United States, Australia and European Union do not need visas to enter Hong Kong. Citizens of other nationalities can consult Hong Kong's immigration website. Also, luggage can be stored on the third level of Terminal 2. The storage room is open from 05:30 to 01:30 and costs $12HKD per hour.
Shopping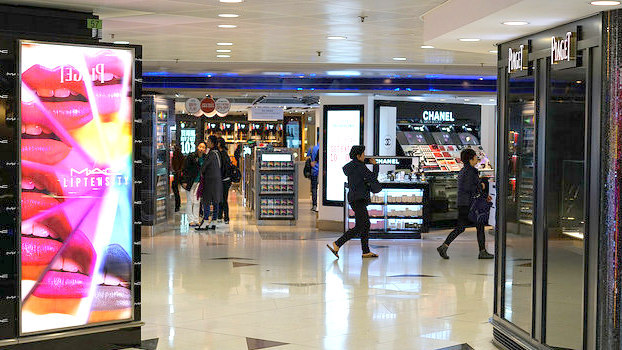 Hong Kong does not have any duty on most goods apart from alcohol, so the duty free at the airport does not hold the same appeal as it may elsewhere. Despite this, the Airport Skymart is still one of Hong Kong's top shopping spots. Most shops are open from 08:00 till 23:00. Highlights include:
Watches & Jewelry – Bvlgari, Cartier and Tiffany & Co. offer an array of the finest jewelry alongside world renowned watchmakers such as Rolex and Swatch.

Fashion – Some of the most luxurious brands in the world of fashion can be found in Hong Kong Airport, ranging from Chanel and Gucci to Calvin Klein Jeans and Burberry.

Cosmetics – For those interested in shopping for beauty products and cosmetics, Kiehl's is located near Gate 1 at Departures Level 6 in Terminal 1.
Wi-Fi

Free Wi-Fi is available throughout the airport airside. You will find a long list of networks when you search, but you should connect to "#HKAirportFreeWiFi". After accepting the usual terms and conditions you will be up and running. There are also desktop computers located in 36 locations, which also have free internet access.
Charging Points

If a mobile or laptop is about to run out of power, there is no need to worry. With over 3,500 charging points in the airport, you will always find a place to charge your device. The sockets are compatible with USB connectors and 3-rectangular-pin fused plugs.
Airport Transportation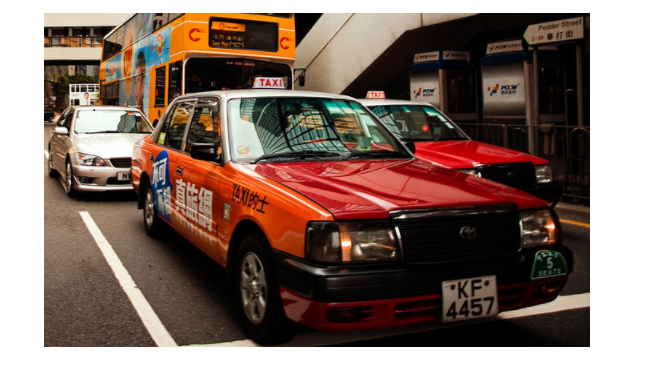 From Hong Kong Airport To Hotel & Downtown

Subway – The MTR subway system in Hong Kong provides an Airport Express line, and while the dedicated line does cut down on the duration of the journey and the number of changes involved, it is limited to five stops, which might not be convenient for some travelers.

Bus– Travelers are much more likely to find a bus heading to their destination at the bus terminal located next to Terminal 2. To ride the bus, however, travelers will need either the local Octopus travel card or the exact change in the local currency.

Private Car – In a densely populated and fast-paced city like Hong Kong, probably one of the most convenient ways to travel to and from the Hong Kong airport is to book a car. The benefits of a Hong Kong car service include guaranteed reliability, safety and flexibility on your schedule.
From Hong Kong Airport To Mainland China

Bus– Buses that run directly into Guangdong in Mainland China are available in the Terminal 2 coach station. They can be quite useful for reaching some cities, but are not recommended for those unfamiliar with China, as passengers are required to leave the bus at the border, cross the border alone, and then locate a different bus once on the other side.

Taxi– Compared to the rest of China, it is easier to communicate with taxi drivers in English in Hong Kong and, although relatively expensive, the fare will be charged according to the actual meter.
The issues begin, however, after crossing into Mainland China. Once over the border, travelers will need to contend with taxi drivers who do not speak English and are notorious for scamming foreigners. Learn more about the pros and cons of taking a taxi from Hong Kong to Shenzhen

.



Private Car – To avoid a situation like the one described above, it is recommended to book a private driver who speaks English who can take you all the way from Hong Kong airport, across the border, and to exactly where you need to be in Mainland China.
_____________________________________________________________________________________________________________

Remove the hassle of getting around Hong Kong! Book a car with driver that will pick you up and drop you safely at the desired destination in Hong Kong. Take advantage of online discount on your 1st service with our company and book your private car and driver now! Click the image below or contact our 24/7 team at Bookings@HongKongCarService.com. Use this promo code: 10CARBLOG.